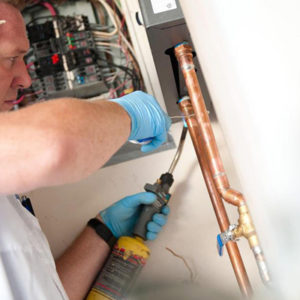 To take care of your water heater repair needs, call GAS ON Plumbing & Heating. We can provide a quick solution to fix your water heater.
If you have had a bad experience with dishonest or outrageously expensive plumbers before, put your trust in GAS ON Plumbing & Heating to get the job done right.
One of the problems with water heater and plumbing emergencies is that they do not wait for a convenient time to ruin your busy day. Being able to provide you with water heater repair at a moment's notice is what makes us stand out from the competition. Adding our prompt response time to our honest attitude and affordable prices makes GAS ON Plumbing & Heating your number one choice.
Repairing Versus Replacing
We can inspect your water heater and give you the best advice, and what your options are. We may be able to provide a quick repair, but also advise you to replace your water heater for a more efficient system. However, it is recommended you replace your water heater every 7 to 10 years.
Call us now to discuss your enquiries
Plumbing Enquiries
Fields with an * are required